Instructions on using your Evacuation Chair
Setup & Prepare
Hold chair upright with both hands whist standing behind it and put one foot on the bottom frame
Raise the handle until spring clips have "clicked and locked" in place.
Slide the head restraint down fully.
Unbuckle seat belt to release skis.
Pull skis towards you.
Pull seat frame up fof full deployment in readiness for passenger·use or transfer.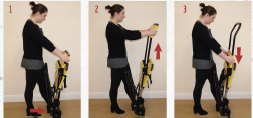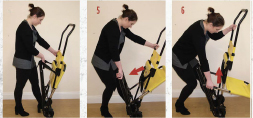 Seating Occupant
Hold chair upright with both hands whist standing behind it and put one foot on the wheel axle.
Keep upright for passenger to be seated or given assistance to be seated.
Passenger to fasten seat belt, if necessary seek assistance.
Keep upright and deploy rear support wheels.
Move towards the stairs.
When you reach the stairs, close the rear support wheels.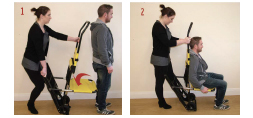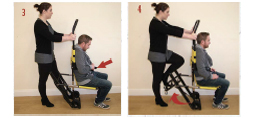 Descending
Stop a safe distance from the top step and tilt chair slightly backwards to a balanced position and wheel to the top of the stairs.
Skis must be in contact with top 2 step edges before moving.
Slide and resposition your hands to grip across the handle.
Press down in the vertical direction as descent progresses.
When the wheels reach the end of the stairs or landing, pause, slide and reposition your hands to grip both handles.
Tilt chair forward to a balanced position and pivot chair in direction to proceed. Repeat 1-6 until you reach ground floor.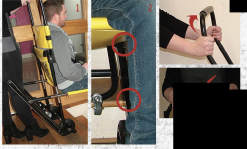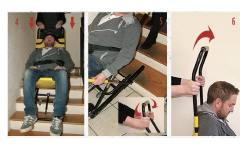 Friction controlled Anti slip belts means breaking is automatically geared to weight
Load capacity 150kg – Tested to 270kg
Single person operation
Dust cover and wall bracket included
Manufactured from high strength aluminium alloy
Seat belt and head rest with head restraint
Locking rear wheel with gas pressure spring allows for use on flat ground
Fire retardant material
Quick and easy to use
Photoluminescent Signage
Manual with instructions
---
Load Capacity 150kg
Weight 11kg
Folded dimensions: H x W x D 111cm x 52cm x 22cm
DDA Compliant
CE Certification
VAT Exempt Product
6 Year Warranty
Price includes fitting and training
HSA/fire safety regulations make it clear that owners/managers of premises are responsible for evacuation precedure.
Any sick, injured or any person unable to negotiate stairs independently, quickly and safely are at risk and therefore must be accompanied.
Lifts are not to be used in the event of a fire.
---
Click below to download our pdfs