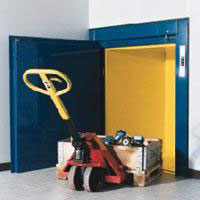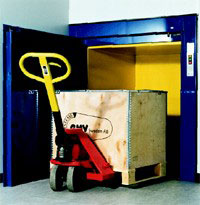 Capacity: 300 / 500 / 750 / 1000 kg
The ISO-MAX is a goods only lift with two fixed cabin areas of 1,00 x 1,40 m (capacity 300, 500, 750 and 1000 kg) or 1,275 x 1,50 m (Capacity 750 and 1000 kg) and a variable cabin height from 1,20 – 2,00 m.
Lift unit complies to EU-Directive for machines and has a EU-Declaration of conformity of German TÜV Hanover / Sachsen-Anhalt e.V.
Compared to a similar hydraulic freight elevator the ISO-MAX will offer you some significant advantages and savings:
corrosion-proof
self-supporting galvanized steel structure
shaft pit depth 270 mm only
machine room less lift
accessible spaces underneath the shaft possible
easy mounting steel shaft cladding deliverable (no fire protection)
space saving installation – compact construction
pre-assembled for easy installation
no brick shaft necessary
Technical information
The information given below lists main features of our goods lifts. Please do not hesitate to contact us for further details.
Structure
Steel structure, made of cold rolled galvanized special profiles
Buffer Ø 80/80
Compensation device on suspension ropes
Baffle plates
Cabin
Cant-off system made of galvanized steel, adjustable guide shoes on both sides
Special safety gear (type tested)
Hinged doors
manual operated hinged doors, made of galvanized steel in accordance to DIN 18090, production controlled by TÜV-authorities
with side frames made of galvanized steel according to drawing
door locks type-tested by TÜV-authorities
Machine room door
double hinged door with sash lock
with side frames made of galvanized steel according to drawing
Drive unit
Drive unit with standard motor IP 54 disc brake and hand wheel, 3 x 400 V /50 Hz
2 chain wheels for chains 5/8″ x 3/8″ suspension 2:1
Controller
call and send control with 24 V, safety circuit 230 V
pre-wired with plugs
adjustable and time-limited despatch delay device (1-5 s)
electronic overload contact
acoustic arrival signal
position indicator on each entrance
thermal motor protection as main switch pre-wired on control panel
machine room light with socket