Aritco 9000 is our cabin lift for the accessibility market. The lift is designed to meet all requirement for quality, safety and service. It is a perfect fit for tough and demanding environments such as schools, shops and residential buildings.
Aritco 9000
Technical compliance: European Machine directive 2006/42/EC
Lift type: Cabin lift
Drive system: Patented screw/nut system
Rated speed (max): 0,15 m/sartcio 9000
Travel height: 21501) -13 000 mm 1) Opposite entry: min 2 150 mm Single entry : 2 300 mm for 2000 mm door opening height
Number of stops: Max. 6 stops per lift
Number of landing doors: Max. 6 doors per lift
Pit: 75 mm (no pit is required when there is a ramp)
Entry: Single entry: A, B or C-side Opposite: A and C-side
Top height: Minimum 2400 mm
Cabin control: Automatic "one-touch" with cabin doors
Landing control (on door): One-touch call
Environment: Indoor
Emergency lowering: Battery operated emergency lowering
Control voltage: 24V
Motor: 3 kW
Power supply: 3-phase 400V 50 Hz/5.2 A/16 A slow
Rated load: 400 kg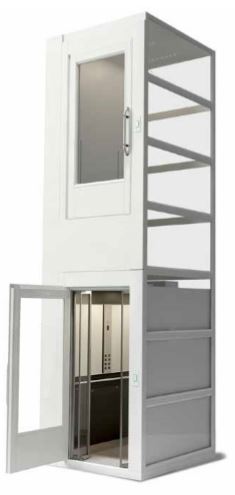 ---
Travel height Travel height: 2 150*-13 000 mm. Minimum travel height:
2 150 mm when not having landing doors on the same side. E.g. When having opposite entry A and C side. The minimum travel height is due to the fact that you need to get up on the cabin roof to make service.
2300 mm when having landing doors on the same side. E.g. when having two doors on the same side; A, B or C side. Due to the height of the door frame and threshold on the landing doors.
Cabin Aritco 9000 is available in 2 different cabin sizes (cabin floor area). 1: Cabin floor area A/C xB (mm) 1000 x 1400
Max load (kg) 400
Power supply 400 V 3-phase
2: Cabin floor area A/C xB (mm) 1100 x 1400
Max load (kg) 400
Power supply 400 V 3-phase
Please note that the information for Aritco 9000 is preliminary and can be subject to change. For more information please contact your Aritco sales representative