Wheelchair Platform LiftThe Platform Stair Lift provides an ideal solution for access to different levels. The Flexible design, high build quality and dependable drive make this lift suitable for all kinds of private, public and Commercial buildings.
Features
The Platform Stairlift, is designed for straight or curved staircases and is built individually with regard to the width and length of the staircase. Normally the lift can be installed without considerable rebuilding costs.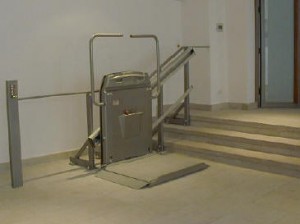 The Lift consists of a rail of aluminium and a carriage with a platform, which can be folded up. It is provided with barrier arms and sensitive flaps on the front and rear edge of the platform. The Lift can be installed directly on a wall or on columns.
Individual adjustments and great flexibility in sensitive surroundings.
Optional colours ( RAL code )
Emergency lowering procedure.
Can be used outdoor.
Is CE type approved.
Softstart and stop as standard.
Electric-supply : 1 phase, 230 Volt AC.
The Lift is delivered as a fully automatic lift, where platform and safety arms are operated automatically. This model can also be delivered with remote control.
Safety details:
Overspeed governor and brake.
Pressure sensitive surfaces which stops the lift if it runs into a obstacle.
Limit switch.
Thermal overload relay.
Manual release mechanism