The ingenious construction method of our service lifts means that they can be used for almost any purpose according to your specification. The flexible design means that there are over 160 options depending on the required load, available space, door type and choice of finish.
Please chose a specific service lift: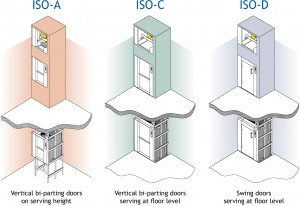 Product Range
Metallschneider is a specialized manufacturer in service lifts for utilization in restaurants, hotels, hospitals and private homes.
Metallschneider offers 4 different types of service lifts for different applications:
Bi-parting doors at serving height (ISO-A)
Bi-parting doors at floor level (ISO-C)
Hinged doors at floor level (ISO-D)
Cabin with 2 separate compartments (ISO-Z) (Without illustration)
Our strengths
In recent years we have become a market leader by focussing on high-tech, on quality and by many other reasons:
Quality seal along DIN EN ISO 9001:2008
Custom-made solutions
Environment-friendly production
Corrosion protection by fire galvanization
Quick and easy installation (with installation manual)
Installation in existing buildings possible
Easy operation – very user-friendly
Low need of current
Low noise level
Minimum maintenance
Installation
90 % of our service lifts are made from pre-installed components. Therefore the installation times are reduced on site by 50 %. Thanks to a ingenious method of construction our service lifts can be used for almost any purpose and can be made according to your specification.