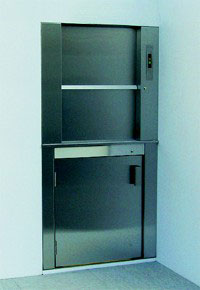 It is necessary in the catering industry to prepare and serve food to the highest standard and in the cleanest environment possible. This lift has two separate compartments the top one for food the bottom for refuse. The advantage of this system means that if space is at a premium, one lift will perform the task of two.
Please chose a specific service lift:
The ingenious construction method of our service lifts means that they can be used for almost any purpose according to your specification. The flexible design means that there are over 160 options depending on the required load, available space, door type and choice of finish.